Call Us :- +91 7838991651




Email :- sale@roteckcompressor.com
An ISO 9001 : 2015 Certified Company
Piston Type Air Compressor
A piston air compressor, also known as a reciprocating air compressor, is a type of compressor that uses a piston to compress air. The compressed air is then stored in a storage tank. These compressors are typically used in industrial and commercial settings, where a steady flow of compressed air is needed to power tools and equipment.
The compression process in a piston air compressor occurs in a cylinder, where a piston moves back and forth to compress the air. The compressed air is then cooled and filtered before it is stored in the storage tank.
Piston air compressors are available in single stage and two stage versions. Single stage compressors compress the air in one pass, while two stage compressors compress it twice. Two stage compressors are more efficient than single stage compressors and are suitable for high-pressure applications.
Piston air compressors are known for their durability and reliability. They are also relatively easy to maintain and repair. However, they can be relatively loud and may consume more energy than other types of compressors.
The major components of a piston air compressor are the cylinder, the piston, the connecting rod, the crankshaft, and the cylinder head. The cylinder head contains the intake and discharge valves which control the flow of air in and out of the cylinder. The crankshaft converts the linear motion of the piston into rotary motion, which can be used to power other equipment.
Some of the advantages of piston air compressor are as follows:

Durability and reliability
Easy maintenance and repair
Suitable for various industries
Available in single and two stage versions
Technical Specification
POWER-2 HP-50 HP/ 1.5 KW- 37 KW
PRESSURE-2.8-70 BAR
VOLUMETRIC FLOW-5-140 CFM /0.14M3 /MIN-3.9M3/MIN
APPLICATION INDUSTRIES -

PET BLOWING/PHARMACEUTICALS/HIGH PRESSURE TESTING UNIT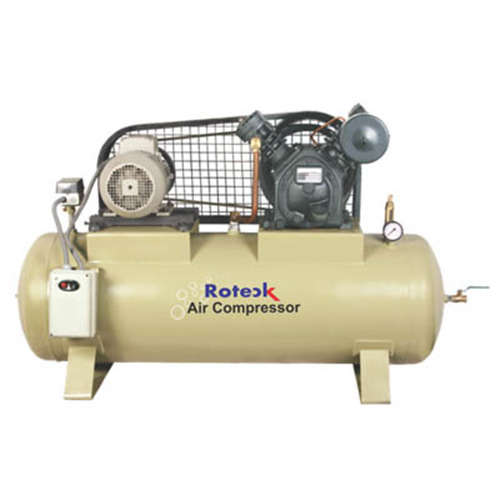 Product Details:
| | |
| --- | --- |
| Price | 5000 INR |
| Unit of Price | Piece/Pieces |
| Unit of Measure | Piece/Pieces |
| Warranty | 1 year |
| Material | iron |
| Power Source | electric |
| Lubrication Type | Lubricated |
| Air Flow Capacity | 7.7-99 Cubic Feet Per Minute (ft3/min) |
| Color | Blue |
| Motor | 1-25 HP |
| Product Type | Piston screw compressor |
| Usage | Industrial |
| Working Presssure | 175 PSIG |
| Payment Terms | Cash Against Delivery (CAD) Cash on Delivery (COD) Days after Acceptance (DA) Cash Advance (CA) Cheque |
| Main Domestic Market | All India |
| Delivery Time | 5 Days |
| Sample Available | Yes |
| Supply Ability | 10 Per Week |
| Main Export Market(s) | Asia |
Typical Air Supply System

Power Saving with VSD